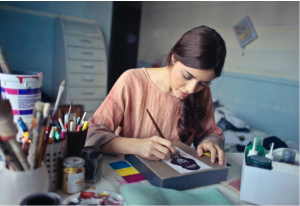 In a home and office setting, one of the most significant investment is the printer since it delivers the essential business documents such as proposals, publication materials, and contracts. For small-time and start-up businesses who operate on a daily basis, they should consider the appropriate printer that meets their given requirements.

One of the most reviewed copier for the past years is the Canon MAXIFY MB5420 Wireless Small Office All-In-One Printer. This inkjet printer provides smaller businesses with high-quality, but low-cost prints and photos and accepts a variety of paper sizes. Its excellent black and color print resolution of 600 x 1200 dpi (dot per inch) creates the full and vibrant colors of the documents and photos.  

What are inside the box?
Inside the box of this Canon inkjet printer model are the MAXIFY MB5420 Wireless Small Office All-In-One Printer, full set of ink cartridges (cyan, magenta, yellow, black), setup CD-ROM, telephone line cable, and power cord.

What features does the machine boast of?

The MB5420 targets small enterprises with its heavy-duty cycle, quick print speeds, and large sheet and ink storage. Below is more detailed information about the capabilities, design, and fundamental features of the Canon MAXIFY MB5420 Wireless Small Office All-In-One Printer.

Quick Printing

The Maxify MB5420 has a business vibe with its sleek black finish and cubic form. It measures 18.5x15x13.5 inches and weighs an approximate of 30 pounds. Canon designed the MB5420 as a heavy-duty printer, so it has a tremendous amount of storage paper capacity of 500 sheets per tray. It also delivers when you need it most with its quick printout time of 6 seconds and print speeds of 24 ppm and 15.5 ppm for black-and-white and color prints, respectively.

Touchscreen Improvement
MB5420 operates with its six physical buttons – the two start buttons for black-and-white and color print/copy, power, home, stop, and back – on its 3.5-inch control panel. The touchscreen panel will display the default icons for fax, scan, and copy when you push the power button on. It is manageable especially with the prevalence of swiping left and right with smartphones today.

Single Pass Two-sided ADF

The built-in duplex printing of the MB5420 allows you to print or scan both sides of a page simultaneously which minimizes the printing costs and saves the environment.

Connectivity

This inkjet printer enables you to print or copy from your devices including smartphones, computers, tablets, and even with your cloud accounts. However, it requires an Internet connection, and an app called the Canon PRINT Inkjet/SELPHY which is available in the Google Play and App Store. The app is only compatible with Android 2.3.3 or later and iPad, iPhone 3GS and above, and third-generation iPod Touch with an iOS not later than 7.0. It also requires you to utilize the Apple AirPrint and connect to same network connection as your iOS device to print your documents.

Price

Canon MAXIFY MB5420 inkjet printer targets small-time institutions. However, its cost does not come inexpensively especially for small businesses and homeowners. If you decide on acquiring one, you should weigh the pros and cons of purchasing and leasing a printer. For several start-up companies, renting a printer is the more efficient option since it delivers maximum production at the cheapest value.

Copier Boston leasing centers support hotel chains and business events by providing competitive pricing and printing equipment at the most reasonable price. If you decide to lease a Canon MAXIFY MB5420 or other models, you can check out the Boston Copier rentals; they have 100% properly maintained, trouble-free, high-quality, and reliable units.